An enormous banner featuring a photo of the late Anthony Magrette rippled gently in the breeze Monday near the Hard Rock Hotel site, where the construction worker died when the structure collapsed Oct. 12, 2019. He and the two other victims were being honored with an art installation on the east wall of a neighboring North Rampart Street building.   
Magrette's wife Nova Espinoza and son Wallace watched as the four-story portrait was anchored in place. Espinoza smiled as she tearfully explained that she wasn't sure how he might have felt about the huge, heroic artwork.
"He was so low-key to certain things. He didn't like so much attention," she said. "But his face looks so lovely."
Espinoza said is was a bittersweet experience, seeing her husband and his workmates given such a tribute on the anniversary of their deaths.
"It does help," she said. "It shows that they're not forgotten, that they didn't die in vain, that everybody knows who they are and they won't be forgotten. Now, he's bigger than life."
According to artist Monica Rose Kelly, who orchestrated the project, the banners are meant to honor the families of the victims and call attention to "the injustices" that she feels accompanied the incident.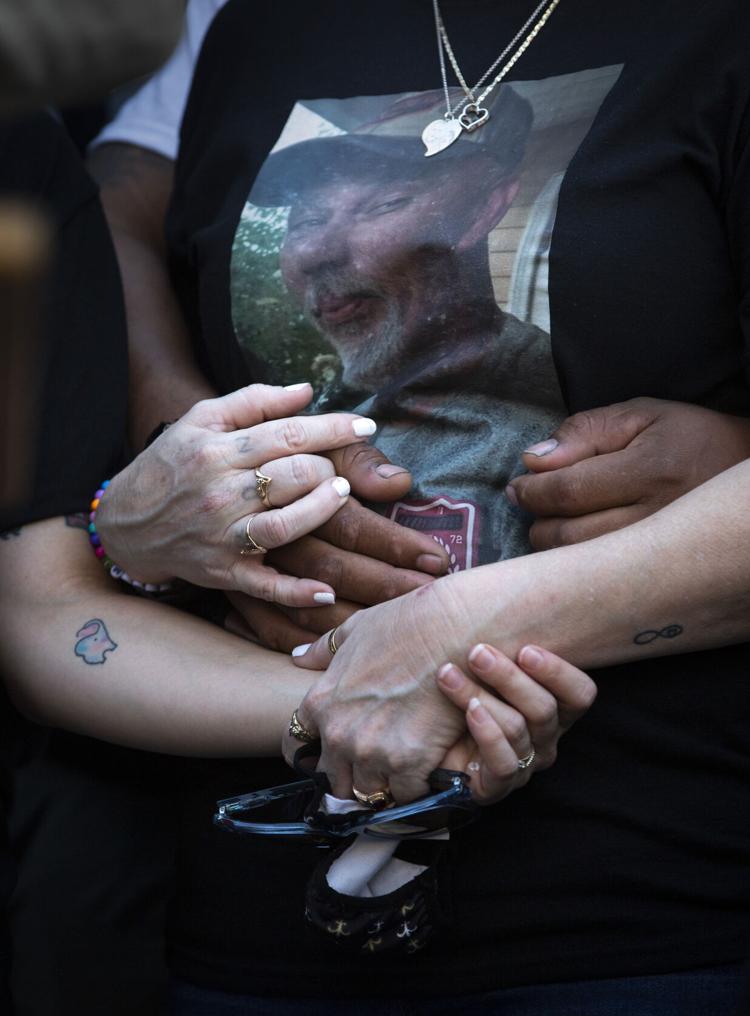 One year ago, the upper stories of the 190-foot-tall structure, which was under construction at the time, crumbled, showering the streets below with debris. Two dozen construction workers were injured and three died. The body of Magrette was recovered a day after the accident, but the remains of Quinnyon Wimberly and Jose Ponce Arreola remained in the wreckage as 10 months of weather delays, equipment troubles and quarrels between city officials and the project's developers postponed the removals.
"Everyone was very upset about how long it took to remove the bodies," Kelly said.
The developers of the collapsed Hard Rock Hotel construction project for months have said that the only thing stopping them from taking down t…
In July, Kelly said she began conceptualizing a permanent memorial for the victims of the collapse. She envisioned laser-cut steel panels similar to the 22 she co-designed for the neutral ground of South Galvez Street, which recalled the neighborhood displaced by the University Medical Center in 2015 and the New Orleans Veterans Affairs Medical Center in 2016. The permanent public memorial will take time, require official approval and be costly. 
It's easy to forget there was once a modest working-class neighborhood along
…
Read more